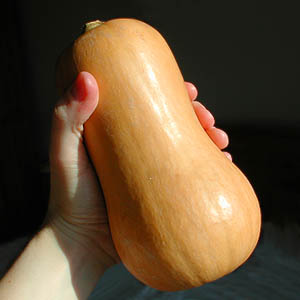 Once,
Dave
received a 'secret vegetable' in the mail, the previously unknown
butternut squash
, a hard winter squash from the
Hampshire College

CSA
share i had with Mod 80.
Unknown, as in 'What the fuck do i do with this?!' Because soup or mash w/brown sugar can only be tolerated for so long, because it is cheap as hell and in season right now, here is what you do:
Butternut Squash-Black Bean Tacos
serves 3
find a small

butternut squash

in the fridge where you are

housesitting

, at the farmers market or grocery. if you are feeding more than three, get a big one!
chop it in half with the biggest knife you can find. watch your fingers, these things are hard! peel the skin off - it will help to cut it into even smaller

pieces

. some

schmancy

stores sell the squash cut/peeled already, but using this method also uses more packaging, so forget it.
cut the peeled chunks into small pieces - about 1/2" cubes.
get out a big frying pan and heat

olive oil

in it over med-high heat. add the squash, try to make sure its only in one layer on the pan.

Saute

squash about 8 min until it's nearly fork-tender and browning.
while squash is

sauteing

, mash

2 cloves garlic

, chop fresh

sage

, and slice a

red bell pepper

. when squash is tender, add all to the pan.
Continue

saute

about another two minutes, till peppers are soft, then add

1 can black beans

, with most of the water drained off.
season with the juice of

half a lime

,

hearty shakes of

cumin

,

salt

,

pepper

,

hot sauce

,

adobo

powder

, whatever else you like.
When everything is hot and delicious eat with

corn tortillas

,

guacamole

,

tomatillo

lime salsa(if you're feeling like you love my

recipes

),

cheese

and on the couch in front of trashy television like

Cribs,

garbage pop videos,

The Office

or

Dr. Who

. or at the dinner table discussing your day, politics, art, and social constructs, like normal people.